RUGD
OUTDOORS
UI Design • Motion Graphics • Branding
RUGD is an outdoor supply company situated in Vik, Iceland, that was established in 1980 and specializes in the toughest outdoor gear and clothing made from eco-friendly materials. They have stations within the interactive retail installation are strategically designed to provide different forms of engagement and interaction. Each station offers a hands-on experience that allows customers to explore RUGD's products, features, and sustainability initiatives in a dynamic and memorable way.
I was able to successfully create a strong and visually appealing brand identity for the company. By incorporating an upward-moving arrow to the logo, I was able to convey a sense of progress and growth, which is essential for any successful business. Additionally, I utilized vibrant colors like yellow, teal, blue, and red to create a dynamic and memorable visual identity that would stand out to potential customers. Finally, I designed the user interface for the interactive stations based on the branding, ensuring that every touchpoint with the company was consistent and visually engaging. Overall, I am proud to have played a key role in creating a successful brand identity for the company.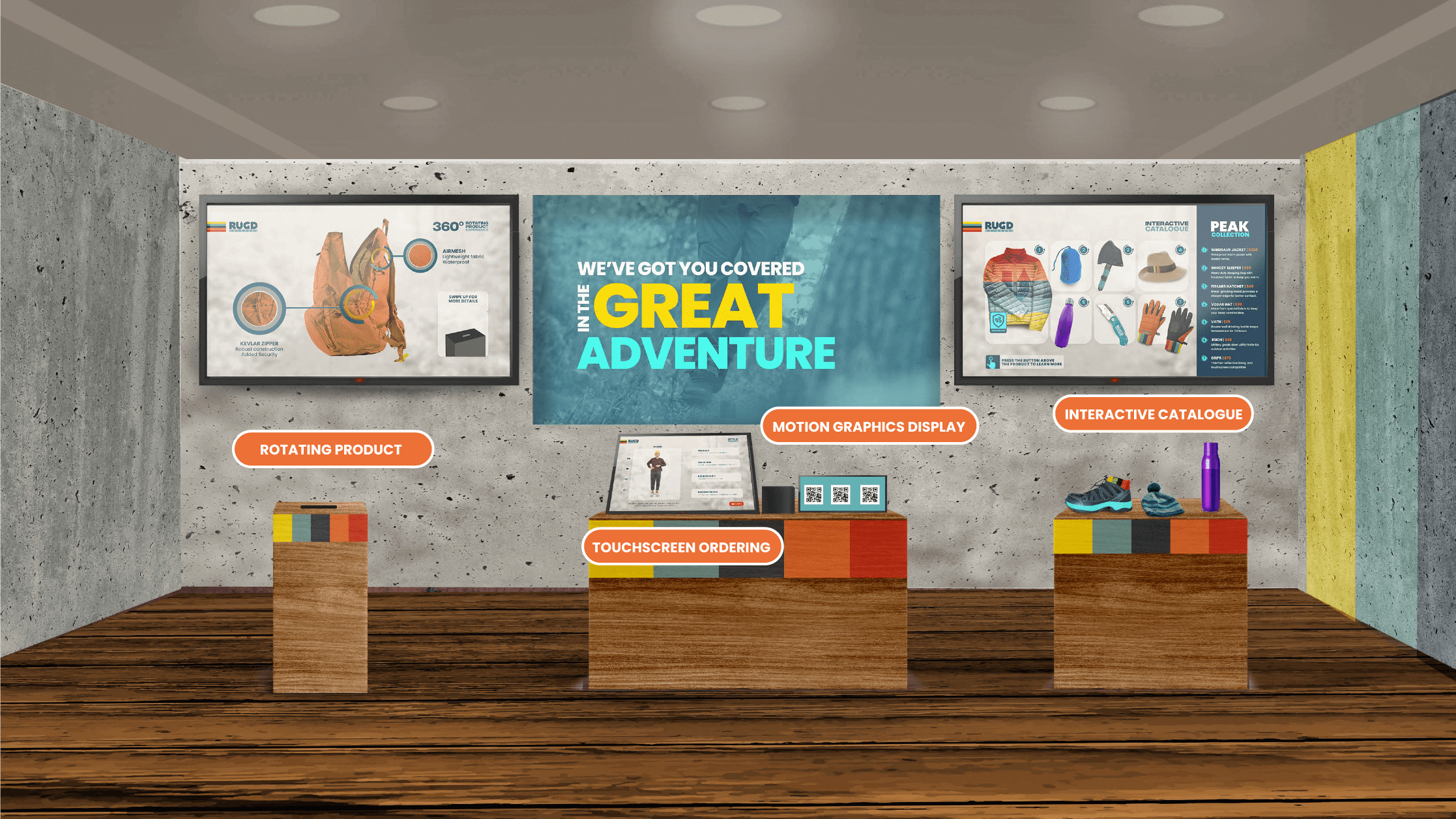 The 360 Rotating product app is an animated screen with a backpack and basic product information. The inclusion of animated instructions shows costumers how to interact with the station using a gesture controller in front of a large screen. The ability for customers to spin the backpack and display animated product content through simple hand gestures is an innovative way to engage with potential customers.
The RUGD interactive catalogue is an innovative and powerful tool that strengthen the relationship with customers. By providing an additional degree of interaction, it opens up new avenues for engagement and discovery, making it an effective solution for enhancing customer experiences. Leveraging light sensors and animated instructions, this tool guides users through a catalogue-style layout of similar products. By pressing buttons on the table, users can interact with a huge screen, exploring products and learning more about their features and benefits.